Preparing and Living in Afghanistan with Babies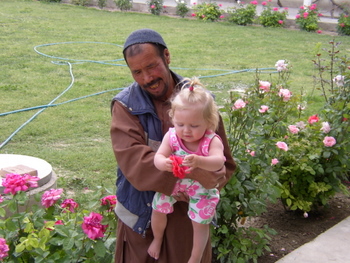 Living in Afghanistan with babies may sound a little scary, but it actually is a great place to raise a baby. There are many humanitarian workers who are nurses or doctors, military hospitals, and of course, Cure Hospital.
Many foreigners have lived in Afghanistan with their babies, children, and teens. We also raised our children from as young as 4 weeks old to later elementary years.
I was pretty scared coming to Afghanistan the first time with our three-month old, but I relaxed quickly as I found many of my friends had medical training and thankfully, the children were generally healthy.
There are a few things it would be wise to bring with you - items not hugely available in Afghanistan. If your work allows you to go to Dubai occasionally, it will be easy to pick up any additional items there.
What Isn't Available:
Cloth Diapers
Baby Carriers
Children's Dishes and silverware
Children's sunscreen and hats
Fluoride-free Toothpaste
Pack-n-plays
Sippy cups
Play things like Exersaucers and Jumping swings (usually there are not door frames, but you can secure a Johnny-jump-up with a heavy duty hook, which you should bring).
Children's liquid flavored ibuprofen, and chewable tablets
Speed thermometer
Baby socks, high quality onesies, baby clothes
Baby/Toddler/Elementary Books in English and Farsi
Child-safe toys
Heavy duty stroller
What IS Available
Pampers, Moltex, and other brand diapers
Johnson's Baby Shampoo
Wipes
Pacifiers
Baby Lotion
Bottles
Potty Training Chairs
Formula
Some Gerber and Heinz baby food
Cribs, toddler beds, highchairs, changing tables (these are available or can easily be made)
Some vaccines
What About a Humidifier?
Unless your agency supplies a generator, this still could be hit or miss, electrically speaking. By all means bring a baby humidifier, but you may still desire to have a back-up plan, in case there is not readily available electricity.
Here is a picture of an Afghan bukhari, with the water tank above the heating chamber. I found it could quickly get to boiling, and produce lots of steam if needed. (And hot water for all those cloth diapers waiting to be washed!)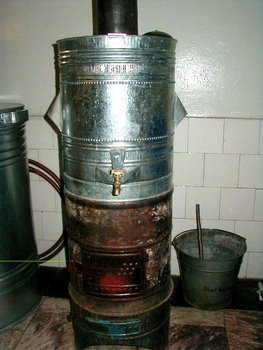 We found it quite easy to keep a wood heater with an audon (water tank) attached to the heater.
We were always ready should our young children need steam, to quickly light the heater and get steam going in the bathroom (great for an easy sauna, too!).
Strongly Recommended to Bring