Wakhan Corridor Adventure Page 2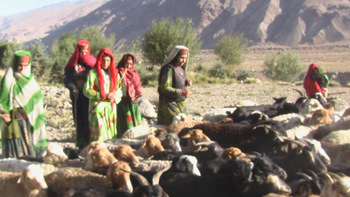 Wakhan Corridor Adventure Page 2 continues from Page 1, where we left them stranded in a village with night falling...
Since night was falling, we didn't feel we could do anything but go with the man. We wrote down everything we had, and put it in the little mud-floor dokan (shop).
He put the lock on it, and we followed him up the most beautiful lush hillside, to the furthest house in the village. His family including his father were there. We learned that this family had lived there for 300 years.
Over dinner, John asked, "What about the Russians? What about the Northern alliance? What about the Taliban?"
And they merely replied, "No war has touched us."
They are gentle, peace loving people, hospitable. The government in Kabul doesn't bother them. They were all gonna vote for Karzai, but while he hasn't done anything against them, he hasn't done anything for them. Aga Khan has really done a lot for them.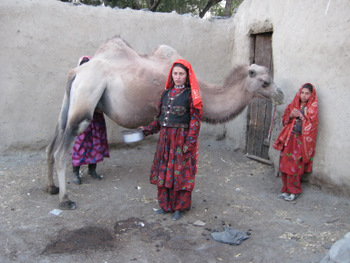 They are mainly Ishmaili's – they are called Wakhi and the language is Wakhi. The men will speak Dari, the women and children don't necessarily understand Dari. Most of the women are uneducated.
So, they put us in the guest room, where friends of ours had stayed previously. Normally we might have had rice, but they had specially cooked pasta for us, with onions. They are very poor, they cannot get fresh fruits and vegetables. Their mane diet is shir choi (milk tea) for breakfast.
But it is camel's milk, or goat milk or cow milk. It is a salty tea. They gave that to us that night and the next morning. Usually, they would have green or black tea at lunch, and then tea and nan for dinner.
They grow beautiful lush wheat, the animals are well fed, the horses are magnificent with a healthy sheen. All the cows and animals look healthy compared to animals in Kabul.
It was harvest time. We think maybe there is so much snow in the winter that maybe they cannot grow other crops. They grow onions and potatoes. The winters are harsh and so severe the people cannot get out of the valley for months at a time. This means, until now, no one could get in, either. There are no fruit trees.
They served us noodles, nan, and black tea for dinner. The next morning we got shir choi and nan for breakfast.
That night, Betty, our friend up the valley, turned up at 10pm. We went to sleep at 8pm, but she came in the dark, crossing rivers in the night. She found us safe, and asleep while she had been so worried.
The toilet had a proper washroom built with stones, a proper pit, but it was 2-3 minute walk from the house. They had one, which meant they were very wealthy.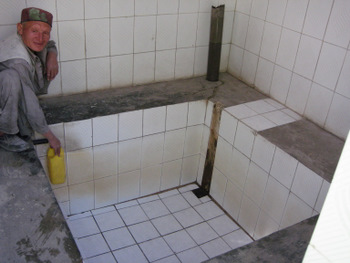 They had their own solar. Electricity. Our hosts were so kind – they even had sheets over the toshaks, gave us blankets. They just went out of their way.
We waited in the morning, no one showed up. Our hosts said they would find us another vehicle and drivers, and meet us at the end of the Wakhan Corridor 5 days later. Betty took us back to her place. Near her place is a hot spring. There are loads of hot springs.
They call them CheshmA – you find them all the way up the Wakhan Corridor valley. They build a mud house over them, some are tiled, the spring goes in there, and you can have a hot spring bath – knee deep, you sit in there, wash yourself, your clothes.
From Faizabad to the end of the Road in the Wakhan Corridor, Sarhad-e-Broghil,is a 19 hour drive in a 4-wheel truck on REALLY rough roads. You wouldn't know it's a road – it's the worst farm track you can imagine. You get mudslides, so the road is constantly changing. We heard 3 avalanches ourselves.
Ishkashem to Piggush is 3 hours, and from Piggush to Khandud is one hour, and from Khandud to Betty's, (Kipkut (near Sargez)) is 2.5 hours, and from Sargez to Sarhad is 4 hours. And from Piggush to Sarhad is 6 hours. (Times are approximate of course).
It's a 5-day walk from Sarhad to China. You cannot drive this last stretch.
We camped in Sarhad. There are guest houses the Aga Khan has paid for, which is a room with a western bathroom, attached to the head man's of the village of the house. These are built for tourism.
They are really nice Afghan rooms. You sleep on the floor on toshaks (floor pillows). Some have toilets filled with rocks, because Afghans there use rocks for wiping, so the toilets are full of rocks. They ran out of water – they didn't seem to know how to fill the water tanks on the roof.
You have to go outside to use the toilet. You have to pay $25/night, but it isn't worth that, but we paid $15. You get a place to sleep and an evening meal of rice, red beans, nan, tea.
(Go to Page 3 to read about their camping up in the Wakhan Corridor Valley as soon as I add the next page of this story...after a tea break, of course!)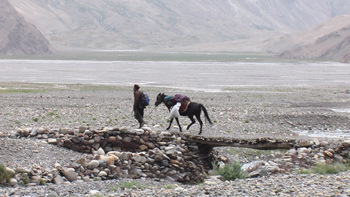 Return from Wakhan Corridor Adventure Page 2 to Home