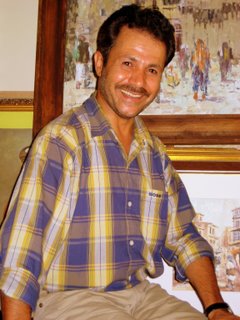 Abdul Wasi Hamdard
Meet Mr. Abdul Wasi Hamdard, accomplished master painter of Afghan art.
I enjoyed meeting Hamdard recently in his studio in Kabul. He has a gentle smile, but a wariness of too many promises made and not fulfilled by the many politicians and governments who have come and gone in Afghanistan. He is a prolific fine art painter, and has sold more than 4000 paintings of Afghan art. His specialty has been Impressionistic paintings, but he also enjoys producing Abstract and Realism miss. He specializes in focusing on typical Afghan cultural scenes, evoking the romanticism of the tribal nomadic past.
When canvas has not been available in Afghanistan in the past 2 decades, that did not keep him from painting...he simply made his own canvas!
"Expressionism" is another style he enjoys. He says, "some things just cannot be painted in the realism style."
Hamdard's "Expressionism" may be interpreted by others as Abstract art. Even his Abstract art reflects a depth of emotion stemming from 30-years of war in his country.
His paintings have been exhibited in Pakistan and Afghanistan. His work may also be found for viewing and purchase at the Bamyan Fine Art Gallery in Kabul on Chicken Street. Posters of some of his paintings are also available here.
Mr. Hamdard enjoys being single because he has "more time and freedom to paint." (At least that's what I think he said in Dari!)


HAMDARD'S STYLE AND TECHNIQUES
Style - Impressionism, Modern, Calligraphy, Expressionism
Mediums - Oil, watercolor
Specialty - landscape, reflections of Afghan daily life, Afghan abstract, Afghan portraits


---
ACCOMPLISHMENTS
His works have been exhibited in 30-40 exhibitions in Pakistan and Afghanistan
He is a graduate of the Kabul University Fine Art Department.
Return from Abdul Wasi Hamdard Bio to Home
---